PAUL WHITEMAN & his Orchestra 78 - Victor 19671 - CHARLESTON + Honey I'm in Love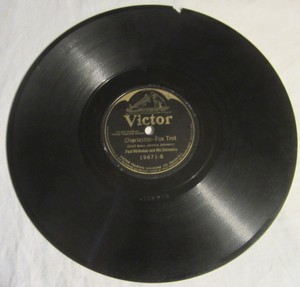 ---
Victor Records 10-inch 78 RPM record No. 19671 is "Honey I'm in Love with You" and the better known "Charleston", by Paul Whiteman and his Orchestra. Recorded in New York on May 7, 1925,  "Charleston" is one of Whiteman's earliest entries in Brian Rust's iconic "Jazz Records" discography.

For the most part, the record looks to be in about VG condition, not as shiny as it used to be, and with some visible surface scuffs and scratches. It plays through without jumping or repeating on my Audio-Technica turntable, but with audible background noise throughout. There is an issue, however, of a chip at the edge, which affects the first few grooves on the "Charleston" side. I've played through it successfully without jumping, but it clicks very loudly for a few revolutions, so you may prefer to skip the first few bars and place the needle carefully past the end of the chip. The chip is less intrusive on the other side and doesn't reach as far as the playing surface. Because of variations in tracking ability, filtering technology and needle weights, I can offer no guarantees as to how well it will play on your equipment. 

International Buyers – Please Note: Import duties, taxes, and charges are not included in the item price or shipping cost. These charges are the buyer's responsibility. Please check with your country's customs office to determine what these additional costs will be prior to bidding or buying. Customs fees are normally charged by the shipping company or collected when you pick the item up. These fees are not additional shipping charges. We won't under-value merchandise or mark the item as a gift on customs forms. Doing that is against U.S. and international laws. COMBINED SHIPPING: See our seller list for other interesting and unusual items, in fact bid on several and you might save on shipping and handling. If you buy multiple items, and if it's feasible and cost-effective for us to ship the items together, we will gladly consider requests to combine shipping at a reduced cost. Just e-mail us, and we can provide combined shipping cost estimates on a case-by-case basis. Depending on weight and other considerations, we typically offer full shipping rate for the first item, then 50 cents or $1.00 per item. And if you are purchasing multiple items, please make the payment as a single payment, rather than trying to pay for each item separately. Oh, and this may sound obvious, but we can't reduce the shipping charges for items on which we offer free shipping.PAYPAL: Let us preface this by saying that Paypal has never been our preferred method of payment, but we realize it is now basically the only form of payment that allows. For international orders, therefore, we now accept payment only by Paypal, unless you initiate some other form of payment that we agree to in advance. Repeat, in advance, please. Please note also that, due to Paypal's ridiculously over-protective "Confirmed Address" policy, we no longer honor requests for shipment to third party addresses, and we reserve the right to refuse to ship to unconfirmed addresses, especially overseas. If you have any questions about this, please contact us prior to bidding so we can review your options. If you have any complaints about this, please contact Paypal.INTERNATIONAL SHIPPING COSTS: If the auto-calculator is not responding, or if you think our shipping costs are too high, please contact us prior to bidding to determine your shipping options and costs. Repeat, prior to bidding, please. Because of Paypal's proof of delivery requirements, we can't always offer the cheapest forms of international shipping, but we might be willing to bend our rules on a case by case basis, so long as you agree that you have no recourse to file claims against either us or Paypal in the event of loss or damage in transit.SALES TAX: Maine residents, please also include sales tax in the amount of 5.5 percent of the winning bid amount. This should calculate automatically at checkout, and the only way to avoid it is to send us a copy of your current Maine Resale Certificate. Upon receipt, we'll send you a customized invoice with the sales tax deleted.FEEDBACK: Because of abuses we've experienced in the past, we have totally given up on the feedback system, so we neither give nor expect feedback. Please, therefore, do not contact us after the auction asking us to leave feedback. If you ever have a problem with an item you purchase from us, please contact us directly about it before giving negative feedback or seller ratings, and especially before invoking 's dreaded Grand Tribunal in processes like "Return Requests" or "Opening an Item Not as Described Case." No one is perfect, and we occasionally mis-describe something, or an item arrives late or gets damaged in the mail, but we are always quick to respond to a problem and set it straight in the most mutually agreeable way.